Posted on Wednesday, April 13, 2022 01:20 PM
County of Simcoe among provincial leaders in waste diversion

The County once again records outstanding residential waste diversion rates. In late 2021, provincial data from 2020 showed the County placed second out of 98 municipalities, with a 64% diversion rate. This is the County's highest diversion rate since recordings began in 2006.
"It is clear from these most recent data, that County residents and businesses are working hard to divert materials and preserve our environment for future generations,"...
Posted on Wednesday, April 13, 2022 01:16 PM
County Services Reminder - Easter 2022
The County of Simcoe reminds residents of the following schedule changes during the holidays in April.
County Administration Centre (Midhurst)
The Administration Centre will be closed to the public between Friday, April 15 and Monday April 18
The Service Simcoe Contact Centre will be closed between Friday, April 15 and Monday April 18
Simcoe County Museum
The facility is closed on Friday, April 15, and Sunday, April 17
The museum is open on Saturday, April 16...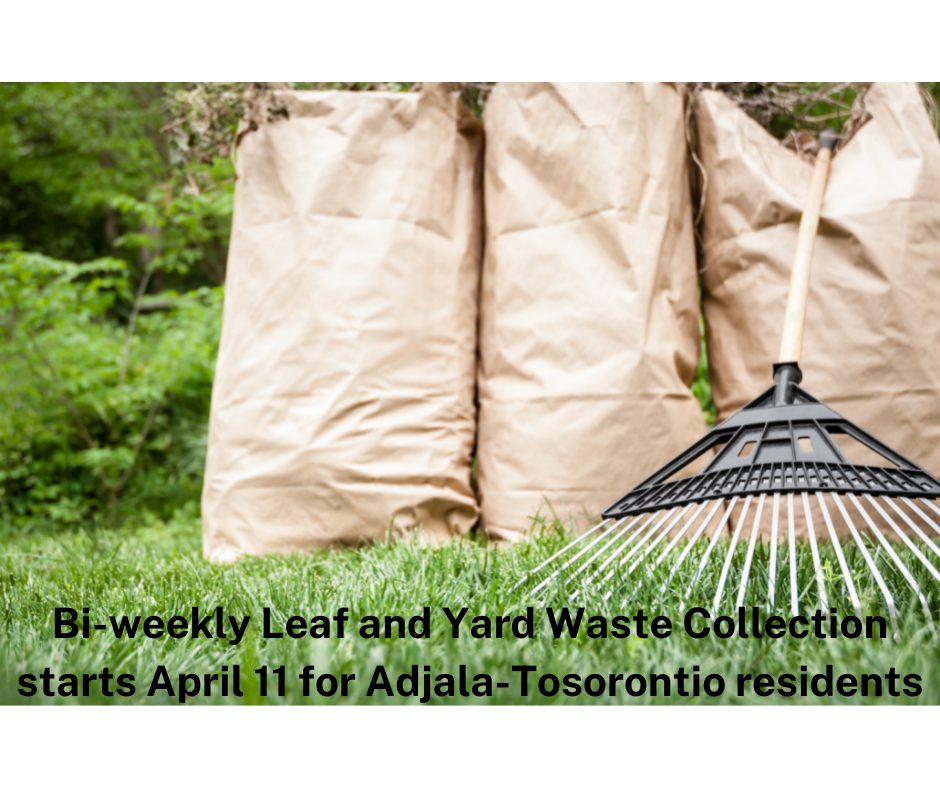 Posted on Tuesday, April 12, 2022 10:15 AM
Simcoe County Advisory Midhurst/ April 11, 2022 – The County of Simcoe's popular curbside Leaf and Yard Waste Collection program is set to start April 11 in Zone One, running until the end of the week of May 31. These bi-weekly collections include leaves, grass, branches (sized and bundled appropriately), and other appropriately prepared garden waste. Residents are reminded to use kraft paper yard waste bags, compostable bags, cardboard boxes, or open-ended rigid containers when placing leaf and...
Posted on Monday, April 04, 2022 04:31 PM
Midhurst/April 4, 2022 – The Simcoe County Museum will be celebrating our world and exploring the creatures that creep, crawl, fly, and grow in the night throughout the month of April. From Preschool Story Time to Sensory Aware exhibits, the Museum is ready to explore and explain the world at night. As of April 2022, exhibits and event spaces are gradually reopening for groups to allow for school tours and meetings.
Posted on Monday, April 04, 2022 03:39 PM
Take notice that the Committee of Adjustment of the Township of Adjala-Tosorontio will hold a hearing Wednesday, April 20th, 2022 at 3:00 p.m.

SYNOPSIS OF PROPOSAL: To reconfigure two existing lots and permit a reduced lot area for the benefitting lot and reduced lot area for the retained lot in the Rural (R) Zone.

Files: B/02/22, A/03/22 & A/04/22
Location: Pt Lot 17, Concession 3 (Tosorontio) 8465 17th Sideroad & 6900 Concession Road 4
Notice of Public Meeting - 8465 17th Sideroad & 6900...
Posted on Thursday, March 31, 2022 03:46 PM
FOR IMMEDIATE RELEASE - County opens 2022 Age-Friendly Seniors Housing Grant Program
Midhurst/ March 31, 2022 – For the fourth year in a row, the County of Simcoe is providing $500,000 in funding to support eligible applicants in creating additional age-friendly housing in Simcoe County.
"The County is working hard to address affordable housing in our area, including enhancing support services and resources to meet the needs of our aging population," said Warden George Cornell. "Since 2018,...