Notice: Province Updates Standards of Care for Dogs Kept Outdoors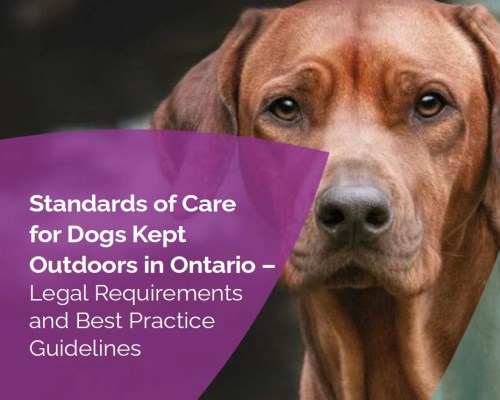 As of July 1, 2022, new regulations ensuring the continued safety and well-being of animals across the province are now in effect.
In keeping with the legislative changes provided under the Township of Adjala-Tosorontio is looking to share this update and requirements from Ontario Regulation 444/19 under the Provincial Animal Welfare Services Act, 2019 (PAWS Act).
The updated standards can be read in full on the Ontario e-Laws page for Ontario Regulation 444/19 and by viewing sections 4 to 4.5 of the regulation. A summary of the regulation in accessible language is publicly available at the Ontario.ca page for dogs kept outdoors.
Additional guidance documents have also been prepared: the Standards of Care for Dogs Kept Outdoors in Ontario – Legal Requirements and Best Practice Guidelines, to help owners and custodians understand the updated standards and gain knowledge of best practices to help ensure the welfare of their dog(s).
To further support owners and custodians of dogs kept outdoors or dogs tethered outdoors, please refer to the accompanying Updated Frequently Asked Questions, which will help address additional questions regarding the updated standards.
These updated standards will not impose any new requirements on municipal by-law enforcement departments. Animal Welfare Services, a branch within the ministry, is the primary body responsible for the enforcement of the PAWS Act and its regulations. In the event of a conflict between a municipal by-law and the updated standards, section 67 of the PAWS Act continues to apply. Section 67 of the PAWS Act specifies that if there is a conflict between a provision of the PAWS Act or its regulations and a municipal by-law related to the welfare of animals or the prevention of cruelty to animals, the provision that provides the greater protection to animals prevails.
Anyone who would like a copy of the guidance document can also contact the ministry at animalwelfareservices@ontario.ca.