Terms of Reference February 2021 - Farmers Market Committee
---
The 2020 Adjala-Tosorontio Farmers' Market was a great success and a Market Committee was formed to organize and run the Market for the 2021 season.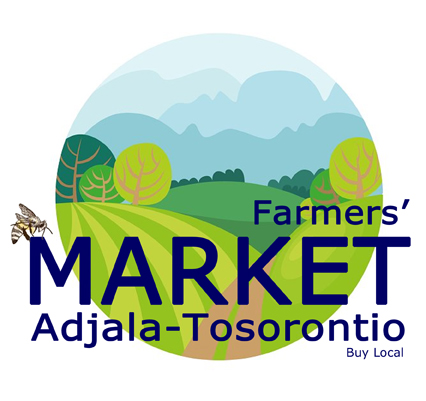 Unfortunately, due primarily to continuing and increased Covid restrictions, the Committee has decided to postpone this year's planned June 4th Market opening for now. If the situation allows we will consider doing a late summer/fall Market.
In an effort to continue to support our local farmers and small businesses, and to serve the community, we are developing an online Market hub to encourage online sales with personal on-sight pick up.
The Committee will be meeting again on May 14th to discuss the details of this virtual Market, and an update will be posted here. Thank you for your patience.
The Market Team.
2021 Vendor Application (WORD Format)
Listed below are the vendors that participated in our market.
Caledon Mushrooms - variety of locally grown mushrooms, teas and herbs
Dhingsa Farms - a variety of seasonal vegetables
FermenTonics - lacto fermented vegetables, tapenade, pesto, fruit waters, etc.
Guilt-Free Cupcakes - gluten free and sugar free baking

Hummingbird Hill Farm - 100% Grass Fed Beef & Bison, greens and vegetables

Kawigga - all natural dog treats, bones and chews

Laurenwood Farm - organically grown vegetables and fruits

Lisle Creek Coffee - locally roasted fresh coffee from around the world

Mulmur-Tosorontio Honey - local honey, maple syrup and more

Sasha's Sweets - multiple varieties of fudge and lollipops

So Jam Good - jam, jelly and

marmalade

Taste of Home - Homemade baked goods, pickles, fresh juices

Turtle Green Refillery - earth-friendly cleaning products in refillable containers

Uncle Jorge's – locally grown vegetables and cinnamon buns

Willow and Wilde - cut flowers and floral arrangements
Funnel Cake Express - Food Truck, funnel cakes, frozen kits to make at home, etc.
Community Table Guest - (August 21 and September 11) - Procyon Wildlife Rehabilitation Centre
With questions contact themarket@adjtos.ca
Photo Gallery: Farmer's Market Final will appear here on the public site.