The Adjala-Tosorontio Farmers Market was a great success!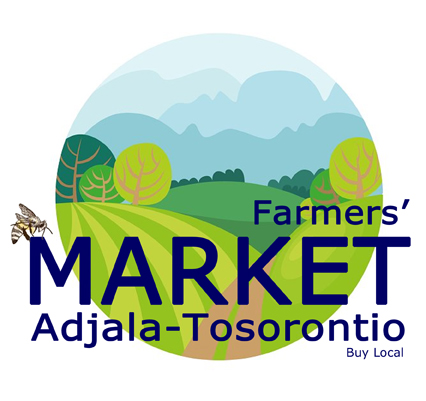 The Adj-Tos Farmers' Market Team would like to put a big THANK YOU! out there to everyone who came out to our markets to support local farmers and small businesses. We'd also like to thank the Works staff who helped us with our set up, the Fire Department who entertained and educated, the Musicians who added to the great vibe, the many volunteers who came out to help in too many ways to mention, and of course, all our wonderful Vendors. We couldn't have done it without you! Thanks to everyone for making our Pilot Project such a huge success! Annette, Cindy, Debbie, and Tina - the Market Team.
The pilot project ran every second Friday afternoon from 3:00 to 7:00 from July to September.
The Market was held at the upper parking lot of the Adjala-Tosorontio Municipal Grounds at 7855 Sideroad 30 (at Hwy 50, just south of Hwy 89).
Due to the COVID-19 pandemic, we closely monitored the Ontario Ministry of Health's guidelines and strictly adhered to all requirements necessary to connect our vendors with our customers in the safest way possible.​

Listed below are the vendors that participated in our market.
Caledon Mushrooms - variety of locally grown mushrooms, teas and herbs
Dhingsa Farms - a variety of seasonal vegetables
FermenTonics - lacto fermented vegetables, tapenade, pesto, fruit waters, etc.
Guilt-Free Cupcakes - gluten free and sugar free baking

Hummingbird Hill Farm - 100% Grass Fed Beef & Bison, greens and vegetables

Kawigga - all natural dog treats, bones and chews

Laurenwood Farm - organically grown vegetables and fruits

Lisle Creek Coffee - locally roasted fresh coffee from around the world

Mulmur-Tosorontio Honey - local honey, maple syrup and more

Sasha's Sweets - multiple varieties of fudge and lollipops

So Jam Good - jam, jelly and

marmalade

Taste of Home - Homemade baked goods, pickles, fresh juices

Turtle Green Refillery - earth-friendly cleaning products in refillable containers

Uncle Jorge's – locally grown vegetables and cinnamon buns

Willow and Wilde - cut flowers and floral arrangements
Funnel Cake Express - Food Truck, funnel cakes, frozen kits to make at home, etc.
Community Table Guest - (August 21 and September 11) - Procyon Wildlife Rehabilitation Centre
With questions contact themarket@adjtos.ca
Photo Gallery: Farmer's Market Final will appear here on the public site.