The Adjala-Tosorontio Farmers Market has been a great success so far.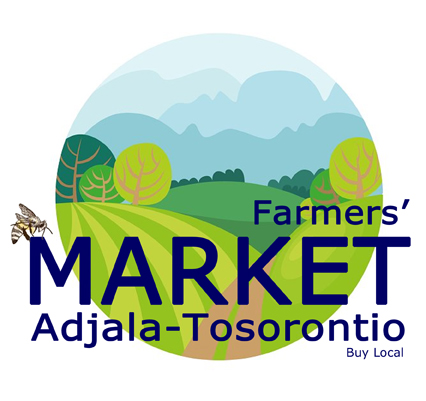 The market team would like to thank our vendors and the hundreds of people who have supported them by coming out to shop local!
The pilot project is running from July to September on the following Friday afternoons:
July 10th and 27th, 2020
August 7th and 21st, 2020
September 11th and 25th, 2020
The Market is being held at the upper parking lot of the Adjala-Tosorontio Municipal Grounds at 7855 Sideroad 30 (at Hwy 50, just south of Hwy 89).
Due to the COVID-19 pandemic, we are closely monitoring the Ontario Ministry of Health's guidelines and will strictly adhere to all requirements necessary to connect our vendors with our customers in the safest way possible.​

Listed below are the current vendors that are participating in our market.
Caledon Mushrooms - variety of locally grown mushrooms, teas and herbs
Dhingsa Farms - a variety of seasonal vegetables
FermenTonics - lacto fermented vegetables, tapenade, pesto, fruit waters, etc.
Guilt-Free Cupcakes - gluten free and sugar free baking

Hummingbird Hill Farm - 100% Grass Fed Beef & Bison, greens and vegetables

Kawigga - all natural dog treats, bones and chews

Laurenwood Farm - organically grown vegetables and fruits

Lisle Creek Coffee - locally roasted fresh coffee from around the world

Mulmur-Tosorontio Honey - local honey, maple syrup and more

Sasha's Sweets - multiple varieties of fudge and lollipops

So Jam Good - jam, jelly and

marmalade

Taste of Home - Homemade baked goods, pickles, fresh juices

Turtle Green Refillery - earth-friendly cleaning products in refillable containers

Uncle Jorge's – locally grown vegetables and cinnamon buns

Willow and Wilde - cut flowers and floral arrangements
Funnel Cake Express - Food Truck, funnel cakes, frozen kits to make at home, etc.
Community Table Guest - (August 21 and September 11) - Procyon Wildlife Rehabilitation Centre
Please come out and enjoy the fresh bounty these local businesses have to offer. They appreciate your support!
Photo Gallery: Farmers Market 2020 will appear here on the public site.
Check back often for updates and new vendor additions!
For more information and pictures go to www.adj-tosfarmersmarket.ca
With questions contact themarket@adjtos.ca